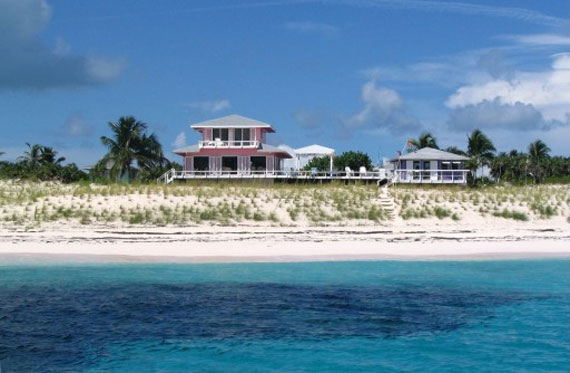 Scotland Cay Villa
Size: approx. 1,82 acres
Price: USD 1,999,000
Location: Abacos Islands, Bahamas, Caribbean
Scotland Cay is a unique 2 1/2 mile island, featuring more than a mile of uninterrupted white sand beach, a lagoon park, 3.600 foot paved runway, marina, tennis court and 6-7 miles of paved road. The island has access to wireless Internet and a cell phone service. Scotland Cay is conveniently located just 185 miles east of Fort Lauderdale and is a short flight from Treasure Cay or Marsh Harbour. Because this is a private island with no commercial enterprise, guests only are allowed to visit. There are approx. 60 home owners. Usually there are less than 15 homes occupied at any one time. An island manager lives on Scotland Cay.
2-Story main house with walk-around decking (living area of the main house 2.200 sqft) Separate guest cottage with bath Entertainment /bar house with 1/2 bath and an enclosed outdoor shower Cart storage/laundry/work house Unusually large deck (deckmaster system construction) and walkway between buildings Outdoor cabinets adjacent to deck = 328 cu/ft Deck "Gazebo" lighted for evening entertaining 25,000 gallons of water can be stored in three cisterns Lighted concrete driveway with stone wall borders Lighted, stone wall defined terrace steps that lead from the paved island perimeter road up the hill to the house Landscaping boasts of coconut palms, other palm species, gumbo limbo trees, sea grape, bougainvillea, crinum lilies, periwinkle, croton, other flowering plants, wedelia and soyzia grass Beach dune planted with sea oats, sea grape and salt resistant vines
This island villa is for sale with all items mentioned, including furnishings, linens, a 14 ft. inflatable Nautica boat and an inflatable kayak with paddle.
Extensive details available upon request.
Please note that all prices and applicable taxes are subject to change without notice.
Inquire about this Property