Welcome to
The Island Tribe newsletter
My name is Alison Tilley and I am the founder of Tropical Living, an unusual tropical travel, homeware and lifestyle company that advocates slowing down, reconnecting and enjoying more "Leisure in Luxury" on the most beautiful islands on earth.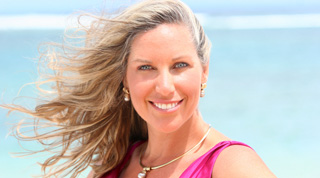 Tropical Living offers practical solutions to help you lead a healthier, happier, more balanced life. It's about "Leisure in Luxury" and devoting more time and attention to quality longevity that nurtures the body, mind and spirit. Escaping to a tropical island can kick start a healthier way of being.
The Tropical Living Island Tribe online newsletter was designed for what I call "The Island Tribe." Intelligent, creative individuals who are passionate about beautiful tropical islands, luxury tropical spas and living the tropical lifestyle.
The Tropical Living Island Tribe newsletter includes islands for sale and for rent, luxurious tropical spas and private villas, travel tips and, of course, the Tropical Living philosophy. Our newsletter also highlights Tropical Living's naturally modern homeware and accents, as well as oasis tips for people who want to recreate the restful feeling of being on a Tropical Living Renewal Vacation wherever they may live.

Huvafen Fushi, Maldives
In the Garden
North Island, Seychelles
For the Island Tribe, there's no destination we love more than exotic tropical islands. Breathing in the sweet air, feeling the embrace of the warm tropical trades, inhaling the intoxicating fragrance of tropical flowers and walking along white beaches lined with thousands of coconut palms.
But it's more than the natural beauty that draws us to tropical islands — the feeling runs much deeper. Tropical islands help us remember our true essence. They carry the pulse of a much slower, gentler pace and relaxed lifestyle, barefoot. Stress melts away and there is a sense of inner peace and calmness. We get in touch with our natural rhythm, becoming more focused on being in the now.
I was inspired to create Tropical Living because I am genuinely concerned about the speed of life, the lack of leisure time and its effect on people. Leisure time has become endangered by the global epidemic of busyness. Tired, overworked and starved for quality time off, our busy lifestyles place enormous strains on togetherness. As we get busier, we often neglect some of the most important aspects of being alive — our connection with ourselves and those we love. Marriages and relationships suffer because couples do not invest the necessary time to nurture each other and stay connected. It takes TIME to stay connected.

Honeymoon Garden Bed
Amandari, Bali, Indonesia
Stone Forest Papillon Tub
I hope the Island Tribe newsletter inspires you to slow down and enjoy more of the Tropical Living lifestyle. Travel to exotic tropical islands and unwind with Tropical Living Renewal Vacations at luxurious tropical spas and private villas around the world. Stay connected to yourself and your loved ones. Recreate the restful feeling of being on a Tropical Living Renewal Vacation by creating your own oasis at home with Tropical Living Homeware. Make mid-course corrections when necessary and design a life you are truly passionate about. Feel natural and eat clean tropical cuisine. Give yourself permission to escape, slow down and celebrate life.
I welcome your photos of tropical nature, short stories and travel adventures from your Tropical Living Renewal Vacations along with photos and stories of how you created your own Tropical Living oasis at home with our naturally modern homeware.
I would also love to hear what has inspired you, what mid-course corrections you've made, how you've reconnected to yourself and others, and how Tropical Living has helped you celebrate the milestones and passages in your life. With your permission, I may include them on the Tropical Living website, in the Island Tribe newsletter or in the upcoming Tropical Living series of books.

North Island, Seychelles
Lenny & me
Amandari, Bali Indonesia
It has been my most sincere pleasure to share the Tropical Living lifestyle with you. Please join me in spreading the word about Tropical Living with others. Tell your friends and family and sign up for the free Island Tribe newsletter. The time to breathe more deeply into life has arrived. The time has come for more life, love, light, laughter, liberation, luxury and definitely… more leisure.
Tropical Living — it's upscale that's uplifting.