Welcome to
Tropical Living LIFESTYLE
As an island, spa and tropical lifestyle expert, I have experienced "Leisure in Luxury" at exotic hideaways from Bora Bora to Bali, from Thailand to Tonga and beyond. Living the tropical life is all about slowing down, reconnecting and embracing a happier, healthier, more balanced life. It's about letting go of what compromises health and happiness, and making new lifestyle choices.
For me personally, it meant making a "mid-course correction" where I let go of alcohol completely and ended my unhappy "starter" marriage. I drank more purified water and fresh vegetable juices, ate more organic salads, stretched every morning, rode my blue beach bike and lounged in a tropical hammock. I devoted more time and attention to quality longevity and nurtured my body, mind and spirit.
Tropical Living LIFESTYLE is a collection of some of my favorite tropically-inspired lifestyle products that will help you recreate the luxurious feeling of being on a restful Tropical Living Renewal Vacation, wherever you may live.
Create an Oasis at Home and "Live on Vacation"
Drink your way to a healthier, more vibrant, energetic life by juicing fresh, organic enzyme-rich fruits and vegetables in a powerful, easy-to-use juicer.
Make delicious smoothies and many other recipes with one of the world's most versatile blenders.
Create edible art with the Ultimate Salad Ceremony Bowl Collection, which inspires me to make and eat more fresh salads.
Prepare nutritious "clean cuisine" in elegant, handmade traditional black clay cookware from Colombia that simply "makes the food taste better."
Shade yourself from the sun in a Tilley Hat - the finest sun hat in the world created by my Dad, Alex Tilley.
Have fun and breathe more deeply into life together with his-and-hers Bora Bora beach bicycles.
Adorn yourself in simple beauty with gorgeous gemstone hair accessories and chunky necklaces.
Celebrate life and sign up for our free Island Tribe Newsletter. It features simple, healthy tropical recipes, lifestyle tips, home ware design ideas, spectacular islands for sale and rent and some of the most beautiful tropical spas on earth.
Please email or give us a call. Our Leisure in Luxury specialists would be delighted to help you create your own personal tropical lifestyle oasis.
Tropical Living - It's Upscale that's Uplifting.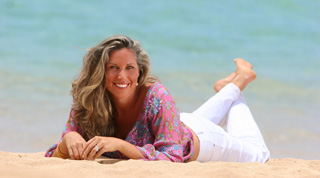 Hear
about our Lifestyle Homeware