Welcome to
Tropical Living OUTDOOR
As an island, spa and tropical lifestyle expert, I have experienced "Leisure in Luxury" at some of the most breathtaking tropical islands, luxury spas and exclusive hideaways on earth. From the British Virgin Islands to the Bahamas, the Philippines to Thailand and beyond, I have experienced firsthand how the pleasure of being in your own peaceful outdoor oasis can encourage a happier, healthier, more balanced life.
After years of visiting luxurious tropical spas with exquisite grounds, I was inspired by the lush, exotic beauty of tropical nature: walking along white sand beaches lined with thousands of coconut palms, breathing in the sweet, pure air, and feeling the embrace of the warm, tropical trade winds. The natural beauty of cascading waterfalls, emerald green mountains and the intoxicating fragrance of flowers have such a powerful impact on my well-being and state of mind. I am reminded to slow down, reconnect and celebrate life.
I designed Tropical Living OUTDOOR to inspire you to create your own personal tropical outdoor oasis where you can escape the busyness of life and enjoy some conversation, solitude or quiet reflection. Tropical Living OUTDOOR is a collection of some of my favorite naturally modern outdoor lounge and garden accents to help you recreate the luxurious feeling of being on a restful Tropical Living Renewal Vacation, wherever you may live.
Celebrate life with the finest naturally modern outdoor essentials and garden accents. Transform your life and "Live on Vacation" with Tropical Living OUTDOOR.
Create an Oasis at Home and "Live on Vacation"
Relax, dine, and escape in a charming gazebo designed in France.
Create serenity with exceptional Asian-inspired statues.
Unwind and reflect under the open sky on our beautifully-designed outdoor lounges.
Meditate and reconnect in our luxurious day beds.
Float flowers in magnificent stone basins.
Listen to the soothing motion of water over serene stone fountains Invite feathered friends to visit with distinctive stone birdbaths.
Light your path with organic stone lanterns.
Settle deep within yourself with the gentle, tranquil tones of wind chimes.
And – of course - enjoy a luxurious nap swaying in our tropical hammocks.
Please email or give us a call. Our Leisure in Luxury specialists will be delighted to help you create your own personal tropical outdoor oasis.
Tropical Living - It's Upscale that's Uplifting.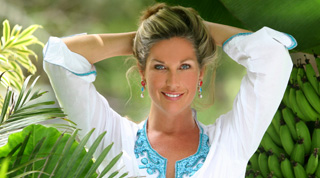 Hear about our Outdoor Homeware