Welcome to
Tropical Living SPA BATH
As an island, spa and tropical lifestyle expert, I have experienced "Leisure in Luxury" at some of the world's most extraordinary tropical spas and became a tropical spa bath aficionado in the process.
I will always remember my first three-hour Mandi Lulur body treatment in Bali, Indonesia. I lay naked in a tropical jungle on a massage table. Surrounded by lush foliage of giant ferns and enormous elephant-ear leaves, I surrendered and enjoyed the incredible sensations. My skin was exfoliated from head to toe with a granular paste of finely ground rice and the unforgettable scents of fragrant spices and jasmine flowers. The paste was gently rubbed in and washed off with warm water poured over my skin from a coconut shell. A blissful two-hour massage ensued, and was followed by soothing yogurt drizzled over my body, moisturizing and softening my skin. Rinsed by hand, I then soaked in a breathtaking solid stone bathtub overflowing with the decadence of colorful, fragrant flowers. My skin simply glowed in appreciation. The emotion was simply overwhelming and the entire experience was truly one of the highlights of my life. I slid into my favorite linen bathrobe for a peaceful afternoon lounge by the private pool and had no idea that something so transformational existed.
Inspired by the lush beauty of tropical nature, I recalled the thatched roofs, moss-covered rock walls and remembered how beautiful it was to soak in a bathtub carved from a gigantic boulder. I designed Tropical Living SPA BATH to help you recreate the luxurious feeling of being on a restful Tropical Living Renewal Vacation, wherever you may live. I searched and found some of the finest spa products and tools from around the world so that you can create the Tropical Living Spa Bath experience in the comfort and privacy of your own home. Escape and celebrate your life with our international selection of naturally modern spa bath essentials and accents.
Create an Oasis at Home and "Live on Vacation"
Bathe in huge hand-carved limestone or granite tubs that remind me of the Como Shambala Estate in Bali.
Invite the outdoors in with gorgeous hand-carved stone sinks.
Rouse your spirit in an outdoor teak and bamboo freestanding shower that reminds me of the tropical rinse I enjoyed while sailing in Bora Bora.
Lounge with the utmost style in crisp linen kimono robes.
Pamper your skin with the finest spa bath products imported from Europe.
Enjoy tropical fragrances with room sprays, candles and soaps made from the sweet, fragrant essence of plumeria.
Delight in exquisite Hawaiian body scrubs and mango body butters that will leave your skin sensuously smooth and smelling wonderful.
Luxuriate in the softest robe and throw I have found anywhere on the planet, with collections for both men and women.
Please email or give us a call. Our Leisure in Luxury specialists would be delighted to help you create your own personal tropical spa bath oasis.
Tropical Living - It's Upscale that's Uplifting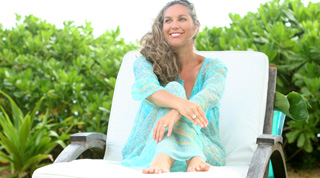 Hear
about our Spa Bath Homeware