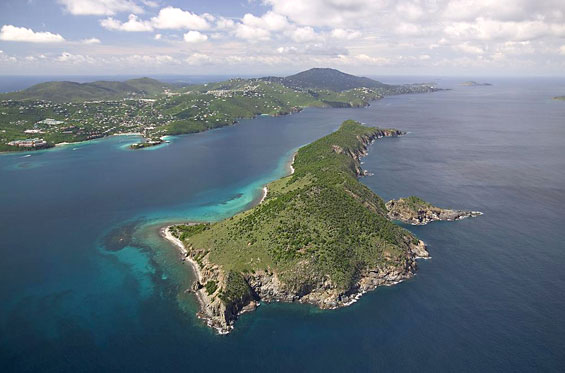 Thatch Cay, US Virgin Islands
Tropical Living Inc. in association with Vladi Private Islands Limited
Size: approximately 230 acres
Price on Request
Location: Near St. Thomas and St. John, US Virgin Islands
Encompassing over 230 acres, this majestic island paradise boasts more than five miles of spectacular shoreline and rises to elevations of almost 500 feet, commanding panoramic views of the Caribbean Sea, Atlantic Ocean, and U.S. and British Virgin Islands. The island lies approximately one half mile off the southeastern coastline of St. Thomas, just five minutes by boat from complete marina facilities. Thatch Cay is zoned R-1 for residential development and is currently subdivided into three parcels: Parcel #1 comprises approximately 57 acres on the western section; Parcel #2 comprises approximately 57 acres in the middle section; and Parcel #3 comprises approximately 115 acres on the eastern section, encompassing the Eva Point area where the dock would be located.
There are four alternative scenarios for development of Thatch Cay, including residential, resort and mixed use plans. Each plan includes a heliport and dock with 8 slips to accommodate boats of up to 40 feet. In addition to the Eva Point beach, a recreational beach in the middle beach area would include a large saltwater swimming pool. The plans include 4 miles of hiking and fitness trials, and devote approximately 25 acres to preservation.
Extensive details available upon request.
Please note that all prices and applicable taxes are subject to change without notice.
Inquire about this Property