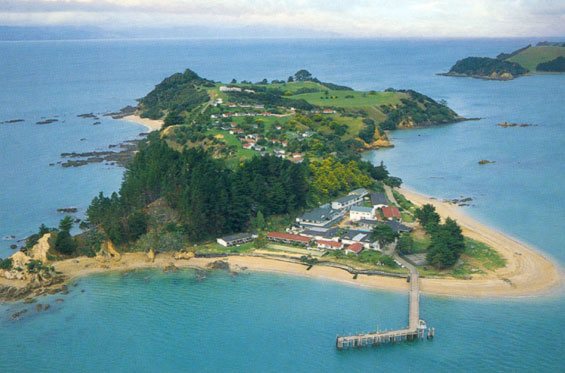 Pakatoa Island, New Zealand
Tropical Living Inc. in association with Vladi Private Islands Limited
Size: approximately 60 acres
Price on Request
Location: Near Auckland, New Zealand
General Information
Located in the Waitemata Harbour Pakatoa is approximately 32 kilometers from Auckland City. It is one of the very few islands privately owned in the Hauraki Gulf, as most islands are held by the Crown as reserve and park land. The island was developed as a resort destination about forty years ago and now offers the opportunity to redevelop its tourism potential or provide exclusive residential retreats.
This offering therefore represents a rare opportunity to acquire an exclusive piece of real estate in New Zealand.
Property Description
The island provides in excess of 24 hectares of undulating land rising from the sea level to a high point of approximately 56 meters. Pakatoa Island is endowed with two attractive beaches on the east coast and one to the north adjacent to the existing wharf facilities. At least one of these beaches is sheltered at all times due to the position of the island, which has a generally northerly aspect. The predominance of buildings currently on site are located to the lower northern part of the island with the chalets constructed on the high ground and open grassland occupying the southern half of the island. The island is extensively landscaped with large stands of native and pine trees, various types of palms and large open areas of grassland. Marine access to the island is serviced by a substantial modern wharf jetty and the island is serviced by a sealed road system.
Extensive details available upon request.
Please note that all prices and applicable taxes are subject to change without notice.
Inquire about this Property