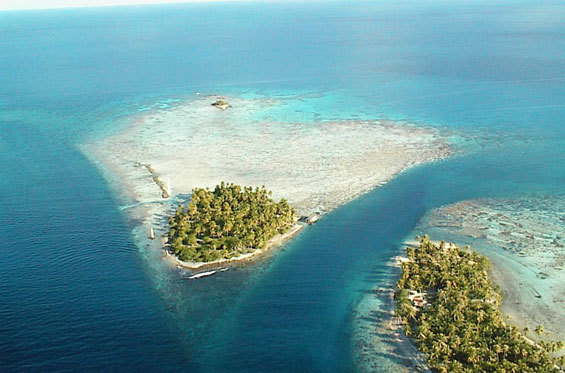 Half of Motu Fara, French Polynesia
Tropical Living Inc. in association with Vladi Private Islands Limited
Size: approximately 2 acres
Price: Euro 1,200,000 + transfer costs + commission for Half of the Island
Location: Rangiroa Atoll, French Polynesia
Half of the island is for sale. The island lies in the Rangiroa Atoll and belongs to the Tuamutu Archipelago in French Polynesia. The atoll is surrounded by a lagoon area of 100 sq km, has two passages to the open ocean and is encircled by wonderfully fine sandy beaches.
At the beginning of the Passage d' Avatoru, in the middle of this paradise, lies the Motu Fara - only 2 minutes by boat away from a village. It is richly planted with coconut palms, and surrounded by soft, white beach and turquoise water.
The south-east side of the island is being sold. The joint ownership of Fare Miti, with a house on stilts, also belongs to this half of the island. The island has electricity (a solar plant) and fresh water. So far there are the following buildings on this half of the island (furnished):
40 sqm bungalow with large wood terrace
Balinese style house with large terrace (in total approximately 250 sqm)
Building with 2 rooms, bath (washing machine), kitchen, large terrace
One room house with bath, large garden and terrace
Additionally, a villa is now being built, which will be ready in December 2007. On the other half of the island, a new Balinese style house is currently being constructed.
Extensive details available upon request.
Please note that all prices and applicable taxes are subject to change without notice.
Inquire about this Property