What Draws Us to Tropical Islands?
When was the Last Time You…?
The First Time I Lay Naked in a Jungle
Why Some Vacations are Simply Not Relaxing
There is Beauty in Simplicity
The Importance of Where You Stay
Designing a Luxury Tropical Spa Vacation
My Love of Tropical Gardens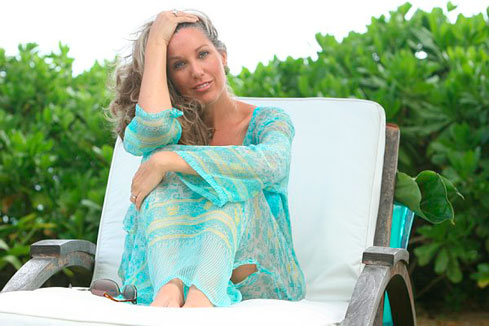 BACK TO complete library of audio clips
What Draws Us to Tropical Islands?

[time to listen—1:05 minutes]

There is no destination I love more than exotic tropical islands, breathing in the sweet air, feeling the embrace of the warm tropical trades and walking along white beaches lined with thousands of coconut palms. The natural beauty is overwhelming. Cascading waterfalls, majestic green mountains and the intoxicating fragrance of tropical flowers all call to me.
But it's more than the natural beauty that draws me to tropical islands – the feeling runs much deeper. Islands help me remember my true essence and primal instincts. Islands carry the pulse of a much slower, gentler pace and relaxed lifestyle, barefoot. Stress melts away and there is a sense of inner peace and calmness. I get in touch with my natural rhythm and feel less distracted and worried, becoming more focused on being in the now. Grains of white sand polish the soles of my feet during a leisurely stroll, and my skin always has a hint of a golden glow from the sun. I feel alive and embraced. Space and time open for reading, swimming, hiking, laughing and enjoying life's simplicity.

When Was the Last Time You…?

[time to listen—1:56 minutes]

When was the last time you…
Awoke to walk with a morning sunrise. Marveled at a morning rainbow. Felt the embrace of a warm tropical breeze. Swam in the crystal blue waters. Tasted sweet pure air filling your lungs. Felt the sun shining on your skin. Watched your fingers disappear into fine white sand. Discovered a perfect sea shell. Enjoyed a picnic at the beach. Listened to the sounds of swaying palms. Watched colorful tropical birds catching the wind. Rode a bicycle downhill through rice fields. Hiked along lush green mountains to a gushing waterfall. Read a good book. Rode a horse on the beach. Surrendered to a 3 hour long massage. Rode an elephant barefoot. Had your feet rubbed for two hours. Enjoyed the sweet fragrance of plumeria and ginger wafting nearby. Sailed with a pod of dolphins. Swam with tropical fish. Ate chilled mangoes and papayas by your own private swimming pool. Enjoyed a sensual afternoon "nap." Rinsed in an outdoor shower. Took time for a candlelight conversation. Stargazed in a hammock. Enjoyed new foods. Went shopping. Gazed at the magical colors of an orange and pink sunset. Danced under a tropical moon. Went to bed early and woke up late. Allowed yourself the time to reflect or do absolutely nothing at all. Meditated in solitude with nature?
Nature inspires creativity to see the goodness in life. I created Tropical Living to help you regain your footing and bring balance back into your life.

The First Time I Lay Naked in a Jungle

[time to listen—1:31 minutes]

As an island, spa and tropical lifestyle expert, I have experienced "Leisure in Luxury" at some of the world's most extraordinary tropical spas and have become a tropical spa aficionado.
I will always remember my first three-hour Mandi Lulur body treatment in Bali, Indonesia. I lay naked in a tropical jungle on a massage table. Surrounded by lush foliage of giant ferns and enormous elephant ear leaves, I surrendered and enjoyed incredible sensations. My skin was exfoliated from head to toe with a granular paste of finely-ground rice, with the unforgettable scents of fragrant spices and Jasmine flowers. Dried, the paste was gently rubbed in and washed off with warm water pouring over my skin from a coconut shell. A blissful two-hour massage was followed with soothing yogurt poured over my body, moisturizing and softening my skin. Rinsed by hand, I then soaked in a breathtaking stone bathtub overflowing with the luxury of colorful, fragrant flowers. My skin glowed in appreciation. The emotion was simply overwhelming and truly one of the highlights of my life. I slide into my favorite linen bathrobe for a peaceful afternoon lounge by the private pool. I had no idea that something so transformational existed.

Why Some Vacations are Simply Not Relaxing

[time to listen—1:01 minutes]

Where in the world can you go to truly get away from everything?
With over 6.6 billion people on the planet, breathing space is proving difficult to find. Seeking solitude, many people often choose locations and vacations that add to their already taxed state of stress. Often, when they finally do decide to go on vacation, they tend not to take the necessary time to really evaluate their vacation decisions. Consequently they end up traveling to the very things they need a vacation from. Over-stimulation.
Many people end up going to the same type of place year after year because they don't know where else to go and they don't know what else is out there. They have never considered the possibility of renting an entire island or renting a luxury spa villa. Tropical Living Renewal Vacations can help you slow down, escape and transform your life.

There is Beauty in Simplicity

[time to listen—1:08 minutes]

Be Natural. In the islands there is beauty in simplicity. Pack lightweight, easy-to-care-for clothing. Lounge around the pool in a sarong or bathrobe eating chilled mangoes. Go barefoot.
Put on a mask and discover the underwater world. Eat the meat from young coconuts. Lounge in comfort and serenity and relax with long massages. Walk in the mornings and make the first foot print on the sand. Eat clean, simple foods. Enjoy a good romp in the afternoon. Delight in the sounds of birds and frogs. Swim and collect sea shells. Hold hands and enjoy conversation. Take a yoga class and stretch out your muscles. Write a list of what you like and want. Reflect on your life. Make a mid-course correction or adjustment if needed. Preserve and reserve your right to rest and relax. Tropical Living Renewal Vacations for a happier, healthier, more balanced life.

The Importance of Where You Stay

[time to listen—1:08 minutes]

In my opinion where you stay is one of THE most important aspects of traveling in "Leisure in Luxury." When you consider how much time you actually stay in or around your vacation rental, it really makes sense to invest in the finest quality.
Between preparing for bed and sleep, lounging over breakfast, resting, relaxing, reading by the pool, swaying in a hammock or lounging on the deck or beach, napping in the late afternoon and enjoying a hot bath or shower, you may spend up to 15 hours at your Tropical Living hideaway.
My husband Lenny and I usually spend about 18 hours each day in or around our island hideaway when we go on vacation. We appreciate the luxury of having a masseuse come to us, and each of us indulge in a two-hour long massage almost everyday.
We also love spending about five or six hours each day exploring, shopping, dining and enjoying the local culture. It is a relaxed pace and we come home refreshed.
I highly recommend you begin your journey by renting a Tropical Living property for at least 10 to14 days (240-336 hours) - the longer the better. You will return from your trip rested, with a restored sense of wonder and a better understanding of what is really important in your life.

Designing a Luxury Tropical Spa Vacation

[time to listen—1:22 minutes]

I am a tropical spa aficionado and am very fortunate to have experienced "Leisure in Luxury" in some of the most exotic tropical spas around the world.
I honestly can't encourage you enough to escape to a tropical spa for a week or two or three.
Experience feeling nurtured, relaxed and relieved to once again be united with your body, mind and spirit. Intentionally design your trip around spa treatments – massage, skin scrubbing, soaking, clearing the meridians of the body and reflexology. Eat clean healthy spa cuisine, stretch, walk on the beach, explore the island, lounge by the pool, laugh, take naps, reflect on your life and write lists, feel the joy of life rise up within you. If you have never experienced living at a luxury tropical spa for one, two, three or four weeks all I can say us what on earth are you waiting for? Just do it.
My team of "Leisure in Luxury" specialists provides personalized service and would be delighted to help you experience a Tropical Living Renewal Vacation. We really do look forward to helping you slow down, escape and transform your life.
Please email or give us a call.

My Love of Tropical Gardens

[time to listen—1:22 minutes]

I especially enjoy wandering through tropical botanical gardens. Thriving in the rich earth, nurtured by the sun and the rain, tropical gardens multiply freely with pristine white plumeria, dazzling red ginger blossoms and sexy pink heliconias. The pure perfection of purple and white orchids and the seductive scent of gardenia are always near to me. Huge volcanic boulders and ornamental sculptures covered in moss capture the earth's essence. The shapes and shadows of enormous foliage are simply magnificent.
Feeling the earth under my feet and admiring the lush greenery and beautiful blooms of tropical flowers always has such a powerful impact on my well-being and state of mind. Tropical gardens soothe my senses and seem to bring me back into my center. I delight in the rich soil, the colors, the sounds and forms. Tranquility washes over me as if I am being nurtured and caressed by Mother Nature herself.
After years of visiting botanical gardens and luxury spa villas with spectacular grounds, I wrote a list of the tropical garden essentials to help you recapture the essence of a Tropical Living Renewal vacation wherever you may live.