Introducing Tropical Living Homeware
The 1970s, Fondue Parties and Brave Artists
How I Beame a Spa Bath Aficionado
A Personal Tribute to Mud
Honoring the Handmade by Not Rushing It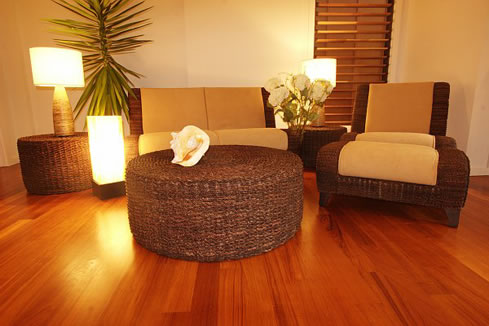 BACK TO complete library of audio clips
Introducing Tropical Living Homeware

[time to listen—2:53 minutes]

As an island, spa and tropical lifestyle expert, I traveled the world 10 times over searching for the most beautiful tropical islands and luxury tropical spas on earth. I found many an oasis and created 'Tropical Living - An Oasis Online' to share them with you. From Bora Bora to Bali, Thailand to Tonga, I have experienced how the pleasure of being in your own tropical oasis can heighten your senses and encourage a happier, healthier, more balanced life.

Inspired by the lush, exotic beauty of some of the finest tropical spa villas on earth, I created Tropical Living HOME WARE to inspire you to create your own personal oasis and "Live on Vacation."

Tropical Living Home Ware is an international collection of my favorite naturally modern furniture, accents and lifestyle products selected from around the world – beautiful, handmade one-of-a-kind pieces that can help you recreate the luxurious feeling of being on a restful Tropical Living Renewal Vacation, wherever you may live.

Tropical Living offers extraordinary indoor and outdoor furniture collections made from abaca, vine, resin and hardwoods. We offer stone tables, unique vases, gorgeous flowers, spectacular onyx lamps, and Asian-inspired garden accents. For your spa bath oasis, we have breathtaking bathtubs and sinks, luxuriously soft bathrobes and sumptuous Hawaiian and European spa bath products. To help you live the Tropical Living lifestyle, we offer an outstanding juicer, blender and the Ultimate Salad Ceremony wooden bowl collection. Enjoy dazzling gemstone jewelry, the finest sun hats in the world from Tilley Endurables, and his-and-hers Bora Bora beach bicycles for some tropical adventure.

My team of "Leisure in Luxury" specialists provides personalized service and will be delighted to offer recommendations to help you create your own personal oasis at home. Email or give us a call. We really do look forward to helping you slow down, escape and celebrate life.
As Tropical Living's way of saying "thank you," whenever you buy one of our Home Ware collections, or buy an island or rent one of our properties for a week or longer, Tropical Living will purchase a livestock animal from Heifer International on your behalf for a family in need. It could be a cow, a goat, a llama or a flock of geese, chickens or ducks. Heifer International's goal is to help end world hunger and poverty through the gift of livestock and training.

The time to breathe more deeply into life has arrived. A global movement for a happier, healthier, more balanced life with more Leisure in Luxury has begun. Tropical Living - It's upscale, that's uplifting.

The 1970s, Fondue Parties & Brave Artists

[time to listen—1:15 minutes]

I had an unusual and adventurous childhood. When I was a young girl growing up in the 1970s, my parents were quite outrageous and very hip. They often hosted huge fondue parties with lots of pot, Drambuie, red wine, and artisan cheeses. There was always an array of unusual creative characters around our home; top models, film producers, graphic artists, writers, and ashram hippy types. Growing up amongst these passionate artists and business people was a big part of my early exposure to joyful, creative people enjoying life.
My parents each owned their own art consulting company. My father, Alex, represented and sold fine original works of art, while my mother, Diane, sold reproductions. I grew up surrounded by highly creative individuals who were extremely passionate about their craft and somehow managed to support themselves financially by making and selling their art.
Having been raised with parents that worked and honored art and artisans, I have always been around the beauty and serenity of one of a kind, handmade home décor and furnishings. Travel furthered heightened an understanding of how just how special it is to own and live with pieces made by loving hands who have mastered their craft. Tropical Living supports brave artists from around the world.

How I Became a Tropical Spa Bath Aficionado

[time to listen—1:43 minutes]

After all of my years of traveling to some of the most exotic luxury tropical spas around the world, I became a tropical spa bathroom aficionado.
I'm always on the lookout for spa bathrooms that will outshine the ones I adore so much in Bali. The designers and architects there truly understand that natural classic materials provide a powerful beauty that affects the human psyche in ways we do not fully realize. The designer's emphasis is on the connection to nature through the use of thatched roofs, moss-covered rock walls with orchids and huge stone statues. I love stone tubs that are carved from giant boulders that have fresh flowers floating in them. Simple, yet exquisite, the lush, organic atmosphere is conducive to total relaxation.
Bathing is a personal experience and a tranquil time to clear the energy of the day and reflect on your life. When combined with deep breathing, every muscle in your body begins to relax and your mind lets go of the worries and distractions of the day. Enjoy a luxurious spa bath at home and prepare you for a relaxing evening at home, lounging, slipping into bed or retiring for a deep, refreshing sleep.
When the body, mind and spirit are in harmony, balance and beauty follow.
Devote an entire day, a couple of hours or even just a few minutes to rediscover your capacity for pleasure or relaxation. Tropical Living homeware can help you create a luxurious spa bath oasis wherever you may live. Tropical Living- It's upscale, that's uplifting.

A Personal Tribute to Mud

[time to listen—1:44 minutes]

When I was a young child, my family rented a cool modern town house that backed on to a beautiful ravine with old trees and a shallow stream. I took my first pottery lesson with my mother when I was 7 and to this day recall those special hours with her as some of the finest, happiest times of my childhood. On pottery nights, I would run as fast as I could down the hill to the bottom of the ravine, my long matted hair flying in the wind, garbage bag in hand. I recall digging my hands deep into the river bed to collect as much of the brown cold clay as I could and trekking it back up the hill to our tangerine colored Volvo. I would take this slippery, sloppy mess to our pottery class dripping all the way. I insisted on using my own supply over theirs. I was an artist!
It's much harder than it looks to make things with clay.
The process:
Collecting the mud
Designing a piece
Preparing the materials by kneading and rolling it
Throwing it precisely on a wheel so it's balanced
Trimming it
Wetting it
Fitting it
Painting it
Signing it
Firing it
And Trying to control the outcome
Silently wishing and praying that the piece won't break or crack and that the finish will look flawless. I have struggled many times with a slab of clay on a potters wheel and even took pottery class in high school hoping that one day I would be able to eat off my own hand made plates. It didn't happen, I couldn't pull it off, however, Tropical Living is honored to be celebrating the art of many incredible potters from around the world.

Honoring the Handmade by Not Rushing It

[time to listen—0:58 minutes]

I honor the creation of art but not rushing it. People have warned me that I can't work with small, independent artists because you, my clients would not be willing to wait 2 or 3 months.
They've said, "you have to be in stock and ready to ship" or you will lose a ton of business.
I don't believe that's true. I think that if I wanted something that was handmade and special, I would gladly wait 2 or 3 months for it to come. Remember, 2 months is only 1440 hours-it's not that long.
A Tropical Living homeware collection may take a couple of months to arrive and it will certainly be worth the wait. Remember, these pieces will be made specifically for you. Imagine the artist's hands sculpting a stone tub or sink, weaving vines into furniture or carving a wooden vase for your beautiful home. Enjoy the anticipation of the arrival.
Tropical Living—Create an Oasis at home and Live on Vacation.