Solutions for a Happier, Healthier, More Balanced Life
Avoiding the Ups and Downs
Reward Yourself
Detox and Transformational Spas
Why I Stopped Drinking
Smoothered by Too Much Stuff
A Woman is Often Measured by the Things She Can't Control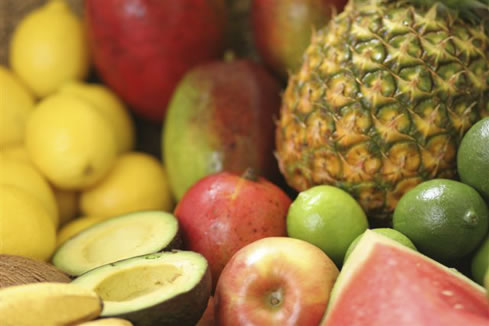 BACK TO complete library of audio clips
Solutions for a Happier,

Healthier, More Balanced Life

[time to listen—1:07 minutes]

Living the tropical lifestyle encourages simpler, healthier living. It's about drinking more pure water, breathing the sweet, clean air of the tropics, relaxing with long tropical massages, body scrubs and floral baths. It's about relaxing, sleeping in, enjoying afternoon naps, lounging in a hammock and reading on the beach, being outdoors in the fresh air, riding a bike, playing in the sand, swimming in the ocean, walking along the beach and exploring. It's about enjoying the simplicity of clean cuisine, eating more salads, fresh tropical fruits, fish and rice.

Living the Tropical Life is about taking care, slowing down and embracing a healthier lifestyle. It's about 'Leisure in Luxury." Devoting more time and attention to quality longevity nurtures the body, mind and spirit.

Escaping to a tropical island can kick start a healthier way of being. To me, living the tropical life is about embracing new healthier choices and letting go of what compromises health and happiness.

Avoiding the Ups and Downs

[time to listen—1:07 minutes]

Living the Tropical Life is about taking care, slowing down and embracing a healthier lifestyle. Devoting more time and attention to quality longevity nurtures the body, mind and spirit.

One of the easiest ways to have a healthier, more balanced life is simply to avoid, or at least lessen, the 'Ups and Downs' in our system.

Alcohol up, alcohol down.
Caffeine up, caffeine down.
Sugar up, sugar down.

It's the small choices we make in our daily routines that can affect our lives and potentially lead us to feeling exhausted and ill.
It's also the products we use in our daily routines that can contribute to the imbalance. Over taxed and stressed out, our physical conditions and emotional peace can become compromised.

Most of us could do with a little rest from the toxic pollutants that affect our systems. We spend a lot of time cleaning our homes, our offices, our clothes, our hair, our teeth, and even our yards. However, we don't spend often much time maintaining the health of our bodies. Consequently, many toxic pollutants are not efficiently cleared out of our systems.

It's the small things…

It's the toxins found in toothpaste that we swallow.
It's the aluminum found in our anti-perspirants as we roll them daily under our underarms smothering our lymphatic systems.
It's the bleach in pads and tampons that enters our systems (it's shocking when you realize that most women menstruate for a total of 6 years. If you start at the age of 13 and end at the age of 50 that's 37 years of having your period. That's an awfully long time to have bleach in your system).

It's the chemicals found in our soaps, our body washes, shampoos, conditioners, shaving creams and body lotions.
It's the chemicals found in air fresheners, laundry soaps and home cleaning supplies.
It's the fertilizers we walk on and breathe while enjoying our yards.

Being informed and conscious about our choices and lifestyle helps encourage our well being. Fortunately, we live in a world where there are many natural alternatives found almost everywhere for almost everything. Tropical Living encourages you to read the ingredients and live a happier, healthier, more balanced life.

Reward Yourself

[time to listen—0:45 minutes]

Consider giving yourself the gift of a wellness reward.

Well done! I'm proud of you! You quit smoking (and the gum and the patch), you drink less alcohol, you rarely, if ever, get high, you've lost some weight, you move a little more than you use to, you gave up caffeine and diet drinks, you released yourself from an abusive relationship that no longer served you and you let go. I think it is important to honor milestones and accomplishments in life.

I quit smoking cigarettes many years ago by going to a hypnotist. It cost $60 and took one hour.

Tropical Living Renewal Vacations can be a great way to honor the milestones and accomplishments in your life.

Detox and Transformational Spas

[time to listen—2:02 minutes]

As an island, spa and tropical lifestyle expert, I traveled the world 10 times over searching for the most beautiful tropical islands and luxurious tropical spas on earth.

Tropical Living rents luxury tropical spa villas and entire spa resorts on some of the most spectacular islands in the world. Our renewal vacations can help you slow down, relax and enjoy a happier, healthier, more balanced life. Experience "Leisure in Luxury" and devote more time and attention to nurturing your body, mind and spirit.

Many of these luxury tropical spas have highly trained professionals and expert instructors who take a holistic approach to your physical and spiritual well being. Rejuvenate, refresh and recharge. Discover anti-stress and anti-aging techniques to help you look and feel your best. Slim down, tone up and stretch with renowned fitness and yoga instructors in the seclusion of breathtaking tropical surroundings. Surrender to nurturing three-hour massages, renewing facials and exotic body scrubs. Receive guidance from nutritional and alternative health professionals. Experience the joy of clean cuisine with delicious and nutritious energizing foods and fresh juices. Gently detox your system with confidence and success. Rediscover the forgotten rhythms of balance. Cleansing usually assists in clearing old emotional and mental issues, leaving more room for a happier, healthier more balanced life.

My team of "Leisure and Luxury" specialists provides personalized service and will be delighted to help you experience a Tropical Living Renewal Vacation. We really do look forward to helping you slow down, escape and transform your life. Please email or give us a call.

Why I Stopped Drinking

[time to listen—1:21 minutes]

With over 6.5 billion people on the planet, I suspect that there are hundreds of millions of people who drink alcohol. Many drink too much and too often. I know I certainly did. I drank like a tropical fish and used up my lifetime quota of red wine by the age of 23. Fortunately, I had what is referred to as a "high bottom." My mother sat me down at the kitchen table and told me flat out "Alison, you do NOT have to go to the dump to know that YOU ARE on the dump truck going there. You can GET OFF at any time." The harsh truth of this hit me squarely in the face. My drinking was affecting my life on many levels; physically, mentally, emotionally, spiritually. My balance, my joy, my health - they were all being affected. Wanting a more balanced, happier and healthier life, I made a "mid-course correction" at age 23 to consciously cleanse my life. I let go of alcohol completely and starting drinking fresh fruit and vegetable juices instead. If you drink a lot of alcohol and you know it, look in the phone book and consider going to a meeting. Basically, I think we are all creatures of habit. We simply need to pay attention to and watch our habits.

Smothered by Too Much Stuff?

[time to listen—1:21 minutes]

For millions of us, there is just FAR too much stuff in our lives. We are surrounded by and smothered by it. Our houses, our cabinets, our drawers, our basements, our attics, our cars, our offices… they are all filled with the stuff we generally don't need.

When did so many drawers become junk drawers? Aren't we suppose to have just one?

Where does all of this stuff come from anyway?

I've been giving thought as to where people get their furniture.

For many it's been passed down from relatives, inherited from friends or left in the home from previous owners. Others find "bargains" at garage sales. These pieces may be fine and functional but do you absolutely love them? Many people have told me that before they purged their lives and homes of excess, they felt extremely anxious and overwhelmed and found it difficult to move forward in life. I believe that many people could benefit from giving their homes a colonic.

All it takes is a few hours to sort through a lifetime of clutter. Be ruthless and really let go. I don't want people to clutter up their lives and homes. Before you buy anything, please make the space for it's beauty.

A Woman is Often Measured by

the Things She Can't Control

[time to listen—1:05 minutes]

"A WOMAN IS OFTEN MEASURED by the things she cannot control. She is measured by the way her body curves or doesn't curve, by where it is flat or straight or round. She is measured by 36-24-36 and inches and ages and numbers, by all the outside things that don't ever add up to who she is on the inside. And so if a woman is to be measured, let her be measured by the things she can control, by who she is and who she is trying to become. Because as every woman knows, measurements are only statistics, and STATISTCS LIE."

Carole Hutchinson
Auckland, New Zealand

How I found this:
I was jogging early one morning on a quiet road in Auckland when I noticed this taped to the inside window of a small dress shop. I stopped, wrote it out and hope you can share it with others.