Divorce is Seriously Brutal
Honoring the Passage of Divorce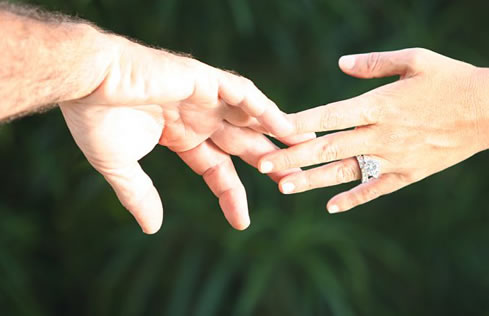 BACK TO complete library of audio clips
Divorce is Seriously Brutal

[time to listen—1:09 minutes]

Like millions of people, I too have experienced divorce and can say firsthand that getting married was much easier than getting unmarried. I went through the pain and heartache of my parents' divorce at age 12 and then the ending of my own first marriage at the age of 31. I sadly realized one day that I didn't feel good about me when I was with him.

I refer to this life passage event as my "starter marriage." It was a serious life changing mid-course correction.

Whenever I meet a woman nowadays who tells me that she is going through a divorce I say "Right on! Good for you!" I know how huge it is to get divorced because I've gone through it myself. Just stand in the heat of the conflict and know that you will be much happier in the future. I found love almost immediately after making the decision to get a divorce and am now joyously married to an intelligent, kind, loving man. You don't have to wait for years to fall in love again.

Tropical Living offers beautiful properties for developing and planning serious mid-course corrections in life.

Honoring the Passage of Divorce

[time to listen—2:05 minutes]

It's important to take the time to recuperate from the exhaustion of letting go.

Divorce has a way of activating the inner fears. Often emotional and drained, it's important to take time to release feelings of sadness, anger, jealousy or failure. Allow yourself the time to experience the closure and the completion. A Tropical Living Renewal Vacation can help you regain your footing while you design your new life. It can be the reward to celebrate the completion of this serious mid-course life correction. We offer breathtaking tropical islands and luxurious spas around the world to help you move forward, renew happiness, and find balance again.

Create a solid new foundation.

Escape to an island hideaway where you can re-think your life, walk on the beach, listen to birds and swim in the ocean. Smell the fragrance of tropical flowers. Rest at a luxurious spa and introduce yourself to the magic of nurturing hands gliding over your body with exquisite oils.

Slide into a luxurious tub filled with beautiful flowers and soak. Let nature assist you in your healing. Write your lists so you can uncover and rediscover what's important. Ponder, develop, and take responsibility for the new you. Elevate your high standards. Figure out what you want to achieve, what do you need to do to get there and what you need to release in order to make room for it. Prepare to jump back into life and bloom once again.

The purpose of life is to live it. It's time to get over it, move on, drink less, move more, eat well, drink plenty of water and take time for yourself to enjoy life. Be alone for a while and learn how to love yourself again. We are alive on this planet to give and receive love. Be courageous. Keep your heart open and love again.