Tropical Living is a state of well-being that can lead you to a happier, healthier, more balanced life. May you be inspired to slow down, be happy and enjoy the tropical lifestyle, abroad and at home.
Become conscious of time and allow yourself the experience of "Leisure in Luxury" on some of the most beautiful islands in the world. Travel to exotic tropical islands and rent spectacular homes and spa villas. Recreate the feeling of being on a restful Tropical Living Renewal Vacation by creating your own personal oasis at home. Stay connected to yourself and your loved ones. Design a life you are truly passionate about and make "mid-course corrections" when necessary. Eat clean tropical cuisine, let go of toxins and give yourself the permission to live in joy.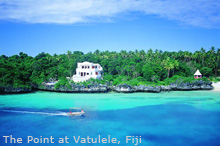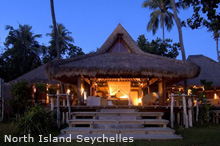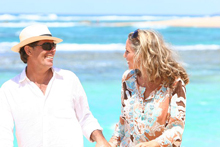 As people are getting busier, they seem to be neglecting some of the most important parts of being alive. Marriages and relationships are suffering because couples are not investing the necessary time to nurture each other. It takes time to stay connected. Overscheduled and often under connected, even children are too busy. They are being taught there is little time to rest, relax, and enjoy life.
In nature creativity awakes and the goodness of life unfolds. Imagine the embrace of warm tropical trade winds and walk along white beaches lined with coconut palms on an exotic tropical island. Space and time open for reading, swimming, hiking and enjoying life's simplicity.
Islands carry the pulse of a much slower, gentler pace. With the pure natural beauty of nature, a morning sunrise, a rainbow and the crystal blue waters, stress melts away, enhancing a sense of inner peace.
I created Tropical Living to help you regain your footing and bring balance back into your life. The time to breathe more deeply into life has arrived. Tropical Living can truly change, shift and rebalance lives. A global movement for a happier, healthier, more balanced life with more "Leisure in Luxury" has begun. Welcome to Tropical Living.